Nonprofit organizations like yours rely heavily on donations to fund their mission. With over 1 billion people logging onto Instagram every month, this platform offers a lot of potential when it comes to reaching donors and generating more support.
Instagram also is a highly visual platform that effectively puts a face to your organization and the people you support, leading to greater trust. And, after all, people identify with people more than organizations alone.
Likewise, Instagram has an average interaction rate four times greater than Facebook and its users tend to be younger. Since both Instagram and Facebook are part of Meta, you can also easily post, engage, advertise, and fundraise across both platforms simultaneously.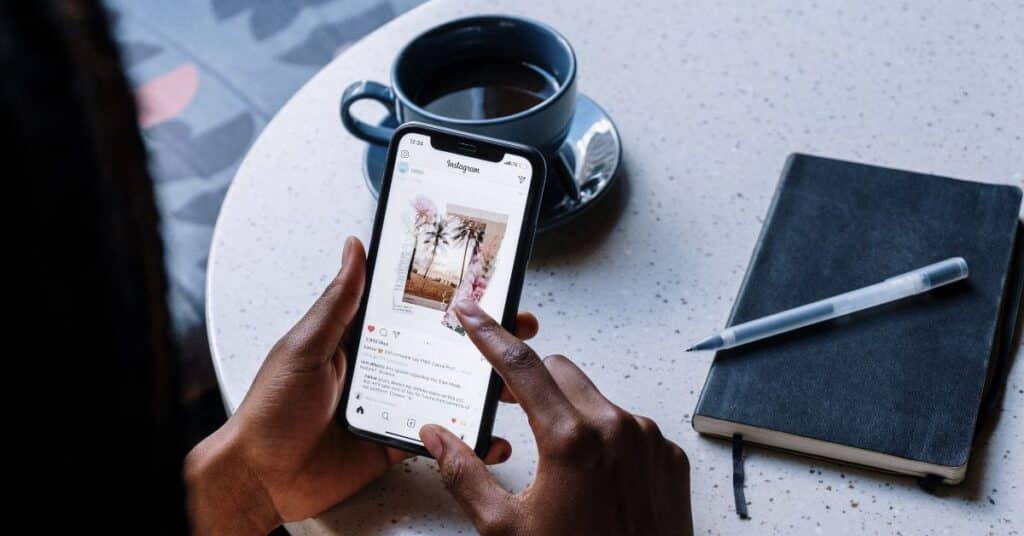 Top Ways Nonprofits Can Use Instagram to Fundraise Online
So, how can you use it to foster connection, spur people to action, and advance your mission?
As a nonprofit organization, you can strategically use Instagram to:
Grow engagement by attracting new supporters and developing stronger relationships with current ones.
Develop your brand by delivering clear messages and calls to action, and providing more frequent and/or real-time updates.
Generate more donations by reaching a wider audience across the platform through influencer partnerships and advocate connections.
After an initial setup, you can use Instagram to achieve meaningful results while conserving precious time, energy, and resources.
Step 1: Set up an Instagram Business Account
If you are new to using Instagram, you will first need to create an Instagram Business Account. To do this, go into your Instagram account to:
Settings > Account > Switch to Business Account
When you do this, select the Nonprofit Organization category. To make it official, you should apply for verification. If you're approved, a blue verification badge will appear next to your Instagram name. This is an important seal of approval that build trust among potential donors.
Having an Instagram Business account will enable you to:
Add a Donate Sticker to your Instagram Stories.
Create Instagram Ads, which also run on Facebook.
View real-time metrics about who is interacting with you on the platform and how.
Add a Donate Button to your profile, which will appear below your bio and above the grid of your previous posts.
Once you have your Instagram Business account up and running, remember to connect it with your organization's Facebook page for maximum visibility.
Step 2: Assign an Instagram Lead
Next, you will want to assign a team member to lead your Instagram effort. A dedicated lead should be responsible for keeping your Instagram profile up to date, posting real-time videos, hosting flash fundraisers, and engaging with your organization's followers directly.
When posting on Instagram, the lead should maintain branding consistent with your other marketing efforts. Whether someone looks at your social media platforms, website, newsletter, or other email communication, they should quickly and easily associate it with your organization.
To find out about the latest features available on the platform, including those related to fundraising, you can follow the Instagram blog.
Step 3: Set Quantifiable Goals & Track Your Progress
Whether you're using Instagram to increase your visibility, establish your online presence, or raise donations, set quantifiable goals and track your progress.
Set a consistent posting schedule. Aim to post at least three days per week, but if the results are good, you may want to ramp up the posting schedule. To make this manageable, you can schedule posts ahead of time using a social media management application like Buffer, Hootsuite, or Sprout Social.
When designing and planning your posts, tag other nonprofits, corporate sponsors, volunteers, and donors (use the @ symbol followed by the user's name) to encourage collaboration and appear in front of more users.
Use Instagram Stories & Donation Stickers to Raise More Money
Instagram Stories are different from the regular picture and video posts that show up in your followers' feeds. These pictures and/or videos will automatically appear as a slideshow, rather than as part of your profile grid and will disappear after 24 hours, similar to Snapchat.
Your followers will see your Instagram Stories at the top of their feed, and they can easily comment or send your organization a direct, private message. Because stories come and go each day, they are best used to:
Host flash fundraising campaigns.
Share updates about your organization.
Provide exclusive views of your day-to-day operations.
Shout out and thank your donors, volunteers, and supporters.
With an Instagram Business account, you can add a Donation Sticker to your Instagram Stories. When your supporters make a donation, ask them to share your Donation Sticker on their own stories. You can also encourage them to post the accompanying "I donated" sticker to their own accounts to build momentum within their network.
If you want your followers to view your Instagram Stories even after the 24-hour window has expired, you can use the Instagram Story Highlights functionality. This creates a collection of your past stories and posts, which you can pin to your Instagram Business profile indefinitely.
Launch Digital Instagram Fundraising Livestream Videos
If you have an event planned, consider using Instagram's live stream feature to launch a digital fundraiser on the platform simultaneously. When you start your live stream, Instagram includes real-time stats that show you how many supporters are donating, and how much money you're raising.
There's also an option to identify and thank individual donors in real-time, giving you yet another opportunity to express gratitude publicly and build stronger relationships with your supporters.
Amplify Your Instagram Presence with Strong CTAs, Hashtags, & More
The point of posting on Instagram, whether a picture, video, or story, is to update, inform, and, ultimately, engage people. To this end, remember to include Calls to Action (CTAs) in your posts and make it easy for people to take the next step. A few CTAs you can use include "donate," "tag a friend," and "click link in bio."
If you ask a question in a post, encourage your followers to reply with a comment. Along with that, you can post a poll, survey, or single on your Instagram Stories to gather insights about what motivates your supporters and engage with them more directly. Here are a few other ways to grow your Instagram network and online presence:
Tag other accounts related to your organization.
When a supporter follows you, follow them back.
Create specific hashtags for each campaign you run.
Thank donors and supporters publicly by tagging them using the @ symbol.
As you continue to refine and update your Instagram strategy, remember to always respond to comments on your posts in a timely manner. This will show your followers you are active, engaged, and interested in a two-way connection.
Channel the Power of User Generated Content (UGC)
User-Generated Content (UGC) on Instagram is one of the best ways to expand your reach on the platform. It includes posts and stories about your organization that individual users have created.
One way to encourage this is by creating a branded hashtag with your nonprofit's name used for specific fundraising campaigns. You can also ask your supporters to post related pictures using your branded hashtag to spread the word quickly.
Start Your Instagram Fundraising for Your Nonprofit
Whether you are completely new to Instagram or simply want to take your digital fundraising up a notch, Instagram offers plenty of opportunities. If you would like more information about how to advance your nonprofit's mission via Instagram, check out our Expand Your Reach with Instagram: Tips for Nonprofits article. Then, contact iMission today!