Salesforce can be a game-changer for nonprofit organizations. Salesforce helps nonprofits raise more money, streamline work and fire-up stakeholder engagement. All this adds up to greater impact.
Salesforce CRM is powerful and flexible. The company is far better able to keep pace with changes in technology than most other nonprofit donor, program and communications companies. The Salesforce.org community is a rapidly growing, collaborative network of people using state-of-the art digital technologies for good.
But to capture the benefits of Salesforce, nonprofit teams can gain tremendous benefits tapping the skills, expertise and insights of people who have lived experience in Salesforce.
This is where a Salesforce Nonprofit Consultants plays an important role.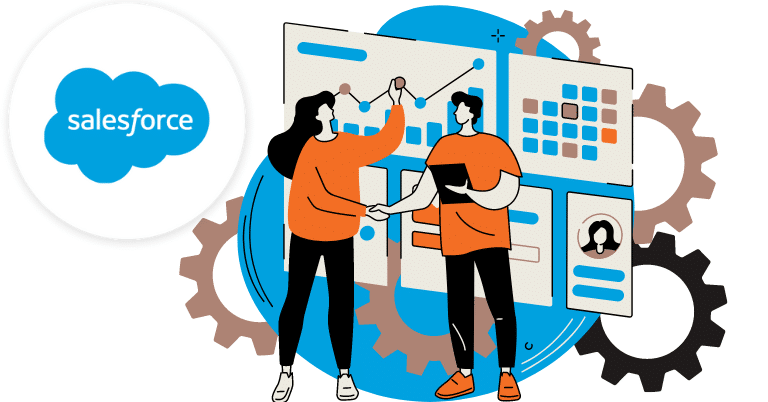 First, let's talk about why your team should hire a Salesforce nonprofit consultant.
The short answer: Hiring a Salesforce consultant will make your life easier while making implementation and upgrades happen faster, with greater benefits, and ultimately, at lower cost.
Salesforce nonprofit consultants have the understanding of how to best use this platform to meet the requirements of your organization. They also have experience guiding teams as they scale up their usage of the platform. They'll be able to anticipate the pain points or pitfalls that you're likely to experience, and proactively help you through them.
Now, let's talk specifics.
Here are six ways that working with a Salesforce nonprofit partner will help you use the platform more effectively. 
1. Save time and money:
A Salesforce nonprofit consulting partner becomes an extension of your team without the commitment of hiring full-time staff. That's not to say in-house Salesforce power-users will not need to be developed, because internal expertise can be critical to an organization's long-term success with Salesforce. But working with a consulting partner can be a smart choice to quickly and cost-effectively gain the support and expertise you need.
2. Streamline and improve effectiveness:
A registered Salesforce consultant is more than a technology expert. They also bring expertise in how nonprofits are using technology to reach new levels of impact and performance. Registered Salesforce nonprofit consultants like iMission have the privilege of working with a range of nonprofit organizations. While each organization is unique, many face similar challenges, so our experience means that we don't have to reinvent the wheel each time.
3. Train your team to be experts:
Helping your team become confident using Salesforce will be one of the most important parts of your relationship with your consulting partner. Depending on what works for you, training can be provided in many different forms: documenting standard operating procedures, creating video tutorials, working in groups or one-on-one, holding "train the trainer" sessions, and more.
4. Make the case across your organization:
Change can be hard, especially if an organization has managed a certain way for years or if executives are reluctant to invest in something new. An experienced Salesforce nonprofit partner will know how to help you navigate this process, winning over the holdouts at your organization and getting them to understand the benefits of Salesforce. Sometimes that means offering training, so other teams can understand how the platform can help them. Or it can mean using high-level data and reports to demonstrate increased productivity or revenue thanks to Salesforce – that can be especially persuasive for executives. We like to collect baseline metrics at the start of client relationships, so improvements can be clearly measured over time
5. Get help with day-to-day management:
Your partner can help with day to day management of Salesforce during a transitional period or for the long term.
This approach, called managed services, is a great way to save your team even more time and money — it can take a lot of work off your team's plate, freeing up your time to focus on your mission. Your Salesforce nonprofit consulting partner can take care of technical support items like data cleanup, analytics and reporting, management of user profiles and permissions, and identifying and resolving bugs.
With a managed service agreement, your organization will develop relationships with consultants who have enough history with the organization to understand their needs more thoroughly. This leads to more accuracy in implementation (i.e. fewer iterations and meetings are required to figure out how to meet their unique needs).
6. Proactively Helping to Navigate the Journey Ahead:
You already know this. Technology is changing all the time, and Salesforce is keeping pace with that change. Registered Salesforce nonprofit consultants have an ongoing obligation and duty to develop a deeper understanding of what is possible in Salesforce and which solutions have been demonstrated to be successful in organizations similar to yours.
So, now that you know some of the major benefits to working with a Salesforce nonprofit consultant, how do you go about finding the right one for you?
There are questions you'll want to get answered when you are searching for a Salesforce nonprofit consultant.
Is the Salesforce consulting firm registered with Salesforce? Go to the Salesforce AppExchange to find out.
Do the consultants understand the nonprofit challenges and how nonprofit work needs to be done? You can find this out simply by asking the right questions during your initial discussions.
Does the consulting firm specialize in Salesforce Nonprofit Cloud and the Salesforce Nonprofit Success Pack? If they don't, you might be paying them to learn. This is the best case. You'll also run the risk that they will try to create a custom Salesforce solution from scratch when an out-of-the-box solution with easy adjustment will meet your needs, now and in the future.
Is the consultant well versed in integrating Salesforce with other applications? These applications extend the core power of the Nonprofit Cloud and Salesforce CRM for fundraising, event management, advocacy, marketing, community engagement, and volunteer management.
How does the Salesforce consultant approach and support the adoption of Salesforce technology in your organization?
Learn more about how iMission Institute can help your nonprofit with Salesforce!
Quick Links