Many nonprofits are migrating away from Raiser's Edge. These nonprofits are realizing they can do better than Raiser's Edge's limited donor management capabilities and steep price. Many are saying goodbye to Raiser's Edge and its parent company Blackbaud. Instead, they are migrating to more empowering constituent management relations (CRM) solutions.
The Salesforce Nonprofit Cloud is the #1 CRM solution for nonprofits in the world.
Salesforce is faster, more powerful, more flexible, more secure, and better for reporting. The power of Salesforce goes beyond resource development. Salesforce is used across organizations, providing low-code, no-code technology for program and case management, community-building, client services, and advocacy.
Migrating from Raiser's Edge into a new platform can feel like an overwhelming challenge.
Are you worried about accurately bringing over all of your data, getting your team trained on the new system, and setting up campaigns on a tight schedule? There are hundreds of thoughts like this when switching such an essential system.
I know how you may be feeling. I've been there myself with multiple organizations. You can't help thinking, "Is all this worth it? What if it goes wrong?" Having been in your shoes, I can say it is 100% worth the stress.
In fact, nonprofit organizations, large and small, have made the move. Over 40,000 nonprofits have successfully moved to the Salesforce Nonprofit Cloud.
These organizations have not only emerged with a new donor management system but also with a solid digital foundation for driving broader digital success. The migration is allowing nonprofit teams to engage with all of their stakeholders more efficiently and effectively.
If approached correctly, the transition happens much more quickly than you might think. To help you make your transition as worry-free as possible, this guide offers a framework and tips for successfully migrating from Raiser's Edge to Salesforce. Let's jump in!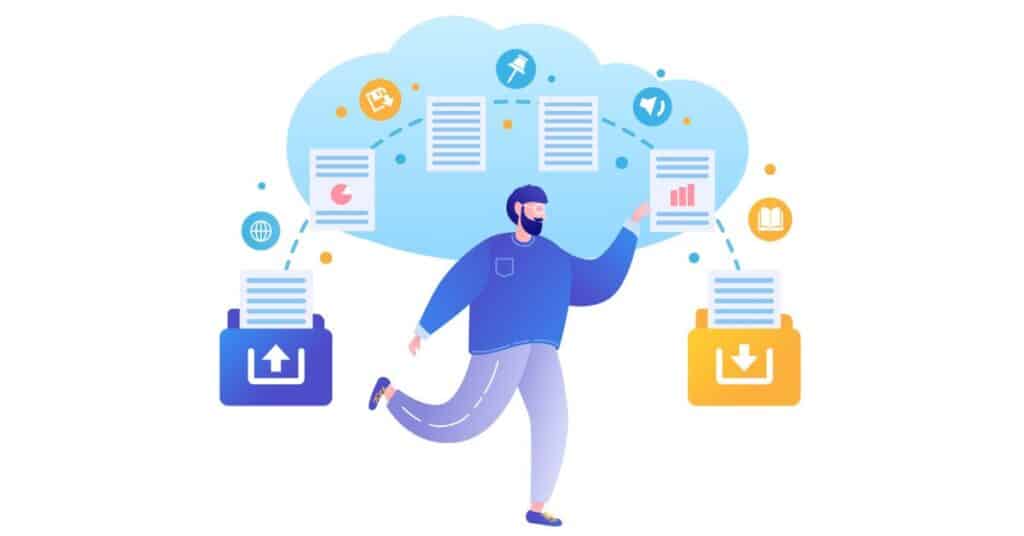 Guide To Migrating From Raiser's Edge To Salesforce
There are three overlapping phases to creating a successful migration:
Think through each of these phases with care, making sure to keep staff members who will be using Salesforce at the core of the process.
Get Ready
You might be eager to jump into Salesforce with a laser focus on moving your data from Raiser's Edge. Getting an accurate data upload is essential, but taking the time to learn core Salesforce concepts is the crucial first step.
Salesforce differs from Raiser's Edge in a few important ways. By taking a bit of time to get up to speed on key Salesforce concepts at the start of your transition, you'll avoid additional data work, a longer migration timeline, and problems down the road.
First things first!
1. What Is A Salesforce Data Model?
"Data Model" is a fancy way of describing how different data blocks can be related to each other.
Very simply, the Salesforce Nonprofit Cloud data model is different from the Raiser's Edge data model. What this means is that trying to force the Raiser's Edge data framework into the new Salesforce data model doesn't work. Think of it this way: if you bought a new car, would you try to drive it by using your old car's engine?
Understanding the Salesforce data model does not mean that you have to become a techie! You can gain the necessary understanding for the Getting Ready stage in just a few hours. Once you learn the basics of the model, understanding how well it is designed for the use of nonprofits is easy.
How is the Salesforce data model better?
Salesforce provides greater data management power and flexibility than other data models. It's better for reporting, too. The Salesforce Nonprofit Cloud data model was developed specifically for the nonprofit sector.
Many nonprofit professionals were frustrated by the limitations of Raiser's Edge and other donor management systems developed during the last century. Their input helped created the Nonprofit Cloud.
Salesforce took all of that knowledge and developed their new data model, the reporting, and the user experience that nonprofits need.
2. Learn the Language: Translate What You Know In Raiser's Edge Into Salesforce Speak
Salesforce uses a different language than Raiser's Edge. Learning how to relate Salesforce terms to your existing Raiser's Edge vocabulary will help your transition go smoothly.
Here's a quick table showing you the Salesforce basic building blocks and how they relate to your Raiser's Edge data:
Raiser's Edge to Salesforce Terminology
| | |
| --- | --- |
| Raiser's Edge | Salesforce |
| Constituents or Organizations | Contacts and Accounts, Households and Organizations |
| Attributes or Constituent Codes | Contact Fields, Contact Roles, Custom Object, Relationships, Affiliations, Campaigns |
| Gifts | Opportunities |
| Appeals and Campaigns | Campaigns |
| Proposals/ Moves Management | Opportunity Stages, Engagement Plans |
| Meetings and Events | Campaigns and Events |
| Actions | Activities |
Raiser's Edge to Salesforce: Key Concepts
You'll want to make sure you really understand the Salesforce terminology. Some of the Salesforce terms may seem counterintuitive to your Raiser's Edge-trained mind, but once you know the language, everything becomes easier to understand.
3. Adopt A Process Improvement Mindset
Like many Raiser's Edge users, your organization very likely developed workarounds that are cumbersome and time-consuming. Often, this was due to the limitations of Raiser's Edge.
Migrating away from Raiser's Edge workflows is an opportunity to break free from the inefficient Blackbaud workaround. Take the opportunity to adopt more efficient processes and methods made possible by better technology.
The Salesforce Nonprofit Cloud platform offers better ways to get you where you want to go — like improving staff effectiveness, allowing faster response time to current and potential donors, and streamlining and automating reporting.
Salesforce is also a much more adaptive system, so keeping an open mindset and accepting change early in the process is the best way to set yourself up for success. The systems you create will look different than what you are used to, but they will evolve as your team members learn and technology evolves.
4. List the Capabilities That You Need
As a part of your transition prep, take the time to identify your needs for your new Salesforce instance.
Look closely at the capabilities you currently use in Raiser's Edge. List them out. Be sure to pull in your whole team for this exercise as different departments use different features.
Some helpful questions to ask your team are:
Do you have a different process for tracking grants vs. individual gifts?
Do you break down donors into different categories?
What are the attributes you use for assigning donor categories?
What other Raiser's Edge features do you currently use? (for example, Online Express for email marketing)?
How do you process donations?
Do you use the Blackbaud donation form on your website or for events?
How do you structure events and campaigns in Raiser's Edge?
Do you pull acknowledgment letters directly in Raiser's Edge or merge them outside the system?
What data/reports are necessary for work day one?
What data/reports do you require?
What data/reports would be nice to have at some point in the future?
What data can you eliminate?
Next, it's time to evaluate what work has been happening outside of Raiser's Edge. Like many Raiser's Edge users, you and your team members may be using Excel or Google Sheets to track events, prospects, funding areas, and goals that don't neatly fit into Raiser's Edge.
Now is the time to brainstorm! Together with your team, explore other capabilities that can push your fundraising to new heights. These can include enhanced moves management, prospect scoring, gift batch process, donation acknowledgment, and soft credit tracking.
The Salesforce Nonprofit Cloud will meet many of these brainstorming goals right out of the box. Many additional capabilities are free to add, but some others require annual fees. Many apps are accessible directly from Salesforce, others are available from other app developers. You can find tested and approved applications in the Salesforce AppExchange.
Remember, in Salesforce, you will do things differently than in Raiser's Edge. With well-thought-out preparation, you and your team will be more effective, and your stakeholders will be better served.
Get Set
At this point, you are comfortable with Salesforce's data model. You are familiar with the new terminology. You identified the features you need and planned out how you will use them. Now you are ready to go through your Raiser's Edge data and map it to your new Salesforce data fields.
Getting your data export file also takes time, so build it into your project calendar. Here are steps to better assure that this process goes smoothly.
1. Request Your Data From Blackbaud
Raiser's Edge will provide you with an export of your data. To secure your data files, you must put in a request to your Blackbaud representative for a backup dataset. To do so, follow these steps:
Log in to your Blackbaud account here with your BlackbaudID (note: this is different from your Raiser's Edge login).
Under your account, go to "my organization." Here you will find the organization Admins listed under the organization contacts.
The request needs to come from one of those Admins. Have the Admin fill out the Customer Authorization Form listed here to request the data.
Once the form is filled out, Click "Chat with Support" and provide a copy of the authorization form to Support by attaching the completed Customer Authorization Form to your case. Upload the form to your FTP site once you have received a case number from Support or attach it to your chat conversation with an analyst. Please note the form cannot be accepted via Email for security reasons.
Blackbaud will place a zipped file containing your database on the FTP site of the Organization Administrator that approved the request, or a secure link will be provided using Thru, and a customer rep will send an email with that link. The password will be delivered within the notes of your case. Copies of backups will generally be available 48 to 72 hours after the request has been made.
2. Organize Your Data
When you first open your exported data file, you'll find a fairly complete set of Raiser's Edge data fields — even those you may have never added data into. You may also have data that is no longer relevant or useful.
Remember: You don't have to migrate all of your Raiser's Edge data into Salesforce!
What information you and your team actually need to effectively get work done? Do you really need all the information on the people who donated a decade ago but have not connected with the organization since then? Do you really need all the grant prospecting information that an intern may have entered five years ago?
Remember, you'll have the data files from Blackbaud stored in a safe place. You can always go back and review. You can also decide to upload more data into Salesforce at a later time. What you really want right now is the data that you need to work effectively.
Consider the data you need now, pare back what is no longer needed. In the long run, you'll save valuable time and money NOT having to clean up data you may never use.
Here are a few examples of data that you might want to leave behind:
Constituents with no valid email address, mailing address, and no giving history
Constituent attributes that are redundant and overlap with other attributes
Old payment information (i.e., details on payments received more than 5, 10, or 15 years ago that have already been reconciled in an audit).
Gift Batch numbers
The entire history of changes to records
Defunct event module information (i.e., old seating charts from events)
Gift processing information from an old account
Every organization has different factors when deciding what legacy data to keep. It can depend on organizational priorities and history. Consultants can make good recommendations, but the ultimate decision of what to keep lies with you and your organization.
The common denominator across the board is that you will inevitably not bring over all your legacy data. There is too much information in the file from Raiser's Edge that simply does not add value to your future efforts in Salesforce's Nonprofit Cloud.
3. Data Clean-up
The excellent news about streamlining the data you need is that you'll have a lot less to clean up after your imports are complete.
To prepare for the import, there are several important steps to take now that will help eliminate redundancy and other errors.
Spend time checking for duplicates and eliminating/merging them.
Identify defunct contact information/improperly formatted contact information.
Look for common typos and other data inconsistencies in your data.
Ensure your naming conventions are the same across all the data.
The goal for your import file is for it to be accurate and consistent.
4. Map Your Legacy Data to Salesforce.
​​Now that you have clean files for the upload, your next step is to map your data to Salesforce.
This mapping will require great attention to detail!
Before you run your imports, you need to ensure that everything is lining up and mapping to the correct fields. It is a best practice to review your mapping several times before uploading it.
At this point, you may be tempted to create a number of custom fields in Salesforce that mirror what you used in Raiser's Edge. This is often done for Attribute and Constituent codes. Creating a custom field is easy.
Stop! This is the time to think through how you can use the Salesforce data model to organize your data. Remember, the salesforce data model has many powerful relationships that you can capitalize upon that were not available to you in Raiser's Edge. Consider how different record types can help you organize your data.
Time spent now going through this process will make the migration easier today while providing far greater flexibility tomorrow.
5. Importing Your Data Into Salesforce
There are many tools available for importing your data into Salesforce. Picking the right tool for this process depends on how much data you want to upload and its complexity.
For more details on data importing tool options, see the iMission article on "Importing Data Into Salesforce: Top Tools."
Once you decide which tool is suitable for you and learn the basics of the process, you can complete your data imports into Salesforce.
6. Organize Around Core Processes
​​While you are thinking through your data and field mapping, you can also start mapping out your processes. This is a fancy way of saying that you want to learn the steps in Salesforce to do the work that needs to be done.
Questions you want to ask at this step in a Raiser's Edge to Salesforce migration are:
How was a set of tasks (e.g. gift batch entry, soft credits, moves management) completed in Raiser's Edge?
What is the new Salesforce process?
Add to the mapping who will undertake each task.
This new map will very likely show you where your old processes can be streamlined and made more efficient by using the new data model.
7. Orienting Your Team to New Ways of Working
While prepping and importing your data, you should also spend time orienting your team. Everyone involved with Salesforce should receive a Salesforce orientation and training in how they will need to use Salesforce.
This training is best accomplished by setting up a Salesforce Sandbox. Sandboxes are test environments that Salesforce provides as a "safe space" for testing, training, or experimenting with different configurations, new apps, or significant changes to your setup.
A sandbox gives you and your team a secure place to try out different features and workflows before you go into your live environment.
Put some actual data in your Sandbox to run through the different tasks that will need to be completed when Salesforce goes live. Testing with actual data will help you highlight issues and how to solve them.
Getting training started in Salesforce will also help your team become familiar with the Salesforce data model and language.
Launch
Congratulations!
Your data is in Salesforce and configured to support the work and reports your team needs. Take a moment to celebrate! You have successfully cut ties with Blackbaud and moved over to Salesforce!
Your exciting journey in using the power of Salesforce to transform your nonprofit has just begun!
A few things to keep in mind:
Training: You'll definitely want to budget time and resources to help team members continue to learn about the power of Salesforce. Make sure your implementation team is ready to respond to the questions and challenges other team members will face as they begin working within the instance. Consider setting up a series of regular touch-base meetings where you and your team can share questions and hands-on answers.
Phase Two Planning: You very likely identified features or data that were 'nice to have but not critical to your original implementation. Consider developing a plan to add those desired features or data sets as a part of your organization's overall CRM plan.
Extending Salesforce: You also may want to develop a plan for getting the rest of your organization to learn about Salesforce. Salesforce is not only a best-in-class donor management platform, but it's also a platform for engaging with all nonprofit stakeholders. These include clients, advocates, volunteers, and community members.
Plan your process: Set goals for the first three months, six months, and so on to track your growth and team's efficiency and comfort level.
What To Do If You Need Assistance
Throughout this entire process, please remember that you're not alone!
Consider using a Salesforce Registered Consulting Partner with proven experience with the Salesforce Nonprofit Cloud to help you in any phase of the implementation or training.
Want to get in touch with us? iMission is a registered Salesforce Consulting Partner. Connect with us today to discuss road-mapping your nonprofit's journey from Raiser's Edge to Salesforce.
Quick Links: