Nonprofit broadcast texting is a powerful tool for engaging donors, volunteers, and clients.
Unfortunately, many nonprofits are not harnessing texting power. The good news. Any nonprofit can get started quickly with texting. After all, you and most of your staff are already texting.
Start by understanding that there are two types of texting used by organizations: broadcast texting and peer-to-peer (P2P) texting. Broadcast texting is a lot like email in that you text to a list of contacts, all of whom have opted-in to receive these texts. Sending to people who have not opted-in is spamming. The big difference between email and text is that people are much more likely to open to a text, 2x, 3x, or 4x more likely!
Many digital applications for nonprofits, like SalsaLabs and MobileCause, include broadcast text for text-to-donate actions.
P2P texting is more like sending a business email.  With P2P, your volunteers, board members or staff can send  "personal" texts, without the receiver opting in. Here is the difference: P2P technologies, like GetThru, enable even small teams to connect with thousands of people in a single hour. The power of P2P text lies in the many personal exchanges that often occur.   In another post, we discuss the 10 Tips for Nonprofit Peer-to-Peer Texting Success,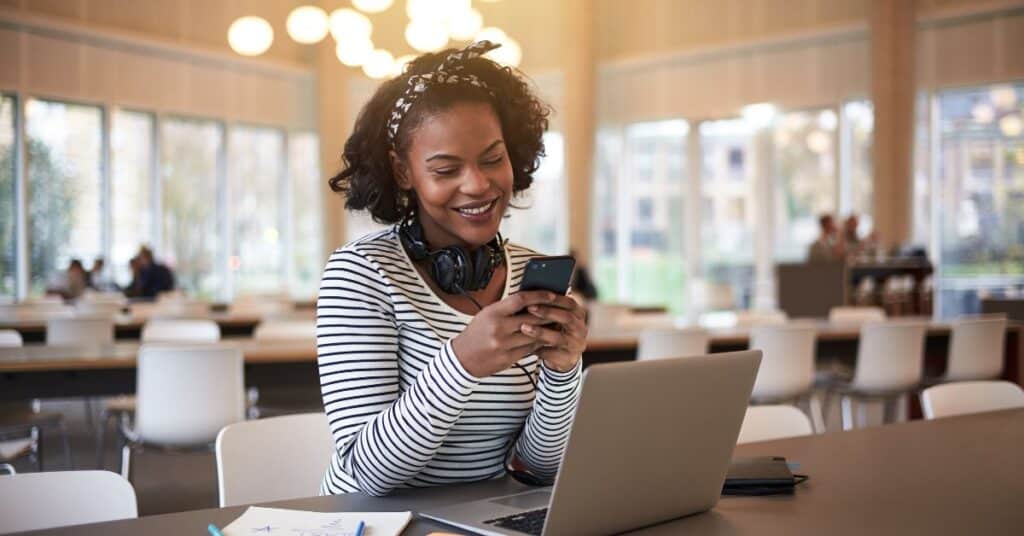 With a Broadcast text platform,
A single sender sends the same message to your list of people who have opted-in to receive a text from you or your organization.
Whether your goal is fundraising, building awareness for an upcoming event, or promoting action and advocacy around your mission, we've put together a list of 10 quick tips on Broadcast texting to consider before you start your campaign.
1. Plan ahead.
In order to use the Broadcast platform, all of your potential message recipients must have deliberately opted-in to receive messages from your organization. The opt-in is mandatory for Broadcast messages. This means that you'll need to be building your broadcast text lists in advance of your campaign's launch. It is important to give people the opportunity to give you their mobile phone number and indicate a desire to receive a text from you.
This can start by asking for a mobile phone number on your website contact forms. Add the standard language to your web forms, emails, social posts, and ads, all with the same message promoting joining your organization, like Text JOIN to 12345 (your shortcode). Be sure to follow up with an automated Thank you/Welcome message letting the new recipient know that standard data & messaging rates will apply and letting them know how to unsubscribe or opt out.
2. Prepare your script.
One of the beauties of Broadcast email is the ability to pre-script your message and set up if/then automation to handle responses. If… someone asks a certain question, then… sends a specific reply. In order to cover as many questions as possible, sit with your team and do some brainstorming about natural questions that come to mind. Use this list of questions, answers, and if/then to define your scripting for the campaign.
3. Keep it brief.
SMS (short message service) or text messages are by nature – short. Standard SMS messages max at 160 characters. Most Broadcast platforms will show you the character counter when you're creating your messages. Keep the 160-character count front of mind, especially since many cell carriers will break longer messages into multiple texts. No one wants to get a barrage of texts all in a row.
4. Make it personal.
Texting is all about personal contact and connection. Broadcast texts send the SAME message to every one of the recipients in your list, so while you cannot personalize the message to use the recipient's name, use yours. When writing your messages, be sure to identify yourself as the Sender (your name/ your volunteer's name), and your organization.
5. Consider your voice/tone.
Think about the tone of your communications from your organization. Will your tone be playful? Motivating? Authoritative? Think about the message you're conveying and the best way to communicate. If you're sending a series of messages, think about varying the tone between them.
6. Use graphics.
Major Broadcast SMS senders will allow you to include graphics like a small gif file or an image file within your text message. If you choose to include a graphic, be sure it resonates with your message. You don't want to include a graphic just for the sake of having one – be sure it underscores your message or adds value in some way.
7. Integrate your CRM.
The major Broadcast players will offer you a CRM for your responses, if at all possible, integrate the responses with your own CRM. Capturing the data of who responded and how they interacted with you will give you greater leverage when planning future campaigns and segmenting out your opted-in file.
8. Honor unsubscribe requests.
If someone who receives your message responds with a STOP, be sure that your settings are equipped to handle that request – and honor it. You may decide to respond with a final opt-out confirmation message to the recipient if you choose, but also be sure to pass along the opted-out status within your CRM.
9. Use feedback surveys.
Depending on your campaign, following up your conversation with a brief survey of multiple-choice questions (frequently offered within the Broadcast SMS setup) is a great way to take a quick temperature check on your communications. This is real data that you can use to inform your ongoing campaigns and it gives you direct – and honest – feedback on your messaging.
10. Take advantage of the technology.
If the Broadcast service you choose offers link / URL tracking, use it to track specific efforts within your series (use different tracking codes for different broadcast messages) so that when your campaign is complete, you'll have a very clear picture of what was resonating with people, and what wasn't. This information is amazingly valuable when looking at your overall campaign performance and planning for future efforts.
Get Started with Broadcast Texting
iMission can help get your organization up and running with a comprehensive Broadcast texting campaign. We can help design and create your campaign, get you and your team trained, and support your nonprofit's goal with best-in-class Broadcast text tools.
Whether your focus is fundraising, advocacy, or building awareness, iMission can help you succeed.