Staff News
September 1, 2023
New Haven, CT
iMission Institute announces the promotion of Riley Cameron to Director of CRM Solutions effective today.
As a Certified Salesforce Partner and CRM consulting firm, iMission offers our clients the strongest CRM platform in the world. Salesforce's secure, no-code, cloud-based solutions manage data and oversee operations in a wholistic and data-driven way. Our team looks forward to Riley's work in developing new avenues and opportunities for our clients to raise money, streamline operations, and engage more constituents in the good work they do every day.
Riley's experience, expertise, and professionalism make her the perfect person to step into this role at iMission.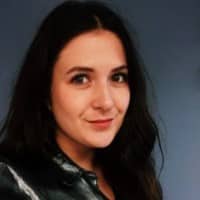 "iMission fosters a collaborative and innovative team environment that I've felt lucky to be a part of! There is a strong culture of learning and growth that I've seen, firsthand, benefit all of the clients we partner with. I'm excited to continue to grow alongside the organization in this new role as Director of CRM Solutions, and help more nonprofits make a greater impact."

Riley Cameron
Rob Leighton, Executive Director of iMission notes, "Our entire team is thrilled for Riley. We look forward to continuing our work with her as she grows our capabilites in the Salesforce ecosystem for our clients. Riley's knowledge and experience are evident in everything she does, and we are fortunate to have her on our team."
For additional questions on iMission Institute's suite of CRM services, please visit the website.
About iMission Institute
iMission is a full-service New Haven-based marketing and stakeholder engagement agency. We work exclusively with mission-driven organizations. We are proud to be a leading nonprofit CRM consultant offering expertise in CRM architecture, workflow process solutions, and client training. Our team has deep experience in Salesforce's Nonprofit Success Pack (NPSP), Marketing Cloud, Experience Cloud, Service Cloud, Education Cloud, Marketing Cloud Account Engagement/Pardot, Einstein Artificial Intelligence (AI), data integrity, and dozens of application integrations. We support and grow our clients' capabilities in advocacy, case management, donor management, grants management, community portals, automated communications, and more. Our clients include nonprofit organizations, health systems, school districts, municipalities and social enterprises. Contact us to learn more about how we can assist your organization today!
Email: info@imissioninstitute.org
Phone: 203-747-8042