A joke is going around in the fundraising circles. It's one boomers find humorous, millennials not so much. Here it is. "How do you get a millennial to give?" Long pause. Then the punch line. "Wait till they're 45."
​If you've been fundraising and focused on big donors, you'll get the logic behind the humor. Younger donors are less likely to be big donors. Every generation, including Boomers and the generation before them, gives more as they have aged. They've progressed in their careers. They are more likely to have built some wealth.  And as they age further, the idea of leaving a legacy through one's estate becomes more relevant.
But be mindful.  Millennials will be hitting 45 in 2024. This is not too far off. Your nonprofit should be working to win the hearts and minds of Millennials, the next generation of big donors. ​
The good news is that your nonprofit need not wait to reap support from Millennials and GenZers alike. Through lower-cost digital engagement solutions, your nonprofit can build a growing base of small donors, volunteers, advocates and activists.  Combined, these small donations can very meaningfully contribute to the resources needed to sustain programs and grow impact.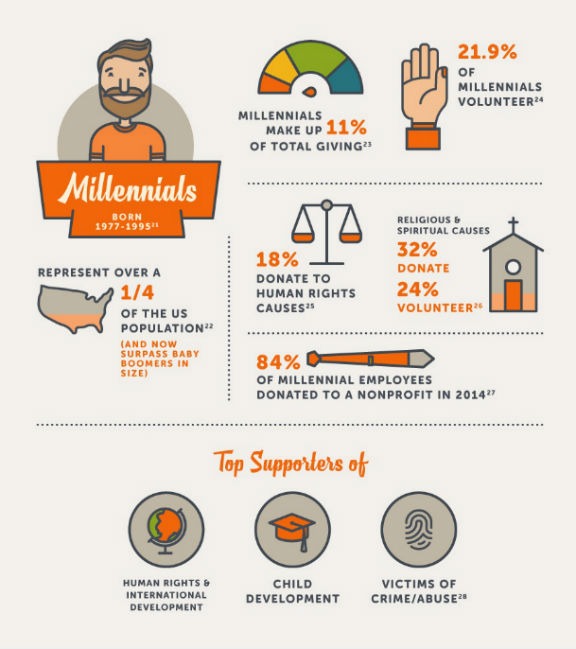 Millennial Donors: 3 Strategic Steps to Use Digital to Engage
Here are three ideas (with a few more tips) for building digital solutions that can both deliver the growing base of millennia donors while also building your brand and loyalty.
Step 1: Make it Easy With Open-Source, Cloud-Based Technology  
The right digital technologies really do make engagement so much easier. What makes for the right technologies? Today? Tomorrow? Avoid using software, platforms and applications that don't allow data to flow easily, in or out, from one to the other in an automated way. Look for digital tools that "play nicely together." These tend to group into different digital "ecosystems" like the Salesforce or Microsoft ecosystem — with the constituent relationship management (CRM) systems of either of these companies serving as the hub or database of record.     
Step 2:  Map out Engagement Journeys 
Create personalized engagement journeys specifically designed for younger generations. Recognize that people will join this journey through multiple points of entry and commitment levels. Create chances for young people to learn about a cause, connect it to their passions and interests, and test out ways of getting involved. It can take some good thinking to get this set-up, but once designed, the right digital solutions can be used to automate both the outreach communications and the data collection.  
Tip 1:  Engagement comes in many forms. Resist the urge to assume that for young people, "engagement" must mean social media. In fact, research has found that Gen Zers are less likely than Millennials to use social media to support a cause. They're more likely to get involved in in-person events. Think about how digital communications can drive offline action to support your cause.
Tip 2: Test communications and start small. The important part is to get started: implement an idea that prioritizes young people, collect data about what works, and start making inroads with this audience. 
Tip 3:  If you're worried about diverting your organization's attention from your reliable support to pursue a new audience, remember that the work you do to engage young people can work for these older supporters.  It's not just Millennials and Gen Z who expect personalization. It's all of us. Everyday digital experiences, from Netflix and Lyft to mobile shopping and banking, continue to condition us to expect a personal touch. By creating compelling journeys, designing multiple points of entry for new supporters, and expanding your view of "engagement," you're likely to see an uptick in support from all of your constituents – no matter what generation they belong to.
Step 3:  Don't Recreate The Wheel
There are many resources for nonprofits to get started with digital engagement. Get started with videos on iMission's youtube channel.