Managing social and human services programs is hard, especially when they are tracked on paper or in spreadsheets. Things tend to get even more complicated when funders demand reports and measurements. And program management gets even more challenging when nonprofit teams seek to assess program impact.
Salesforce's Program Management solution brings the power of digital technology to social and human service program management. Released in the Spring of 2020, Salesforce's Program Management suite is already proving to be a powerful platform to do more good, better.
In this article, we'll introduce you to the Salesforce Program Management suite.
Is Salesforce Right for Human Service Management?
Before we jump into program management in Salesforce, you might be asking "Why use Salesforce at all?" After all, platforms like Therap and Medisked already offer program and case management solutions. Well, here are a number of reasons why you should consider it.
The first reason is that it's not an "either-or" decision. Salesforce is an enterprise-wide platform that allows social service organizations to make important connections among organizations, businesses, families, friends, and other community stakeholders.
Understanding these connections provides powerful data for fundraising, advocacy, and community engagement. Being able to decipher these connections can help human service organizations create a level of impact that goes far beyond today's set of programs. Salesforce has the ability to run side-by-side with these other applications, allowing Data to be synced in numerous ways.
A second reason to take into consideration is that Salesforce is a technology leader while other applications may be delivering an outdated approach. Today's technology is driving important changes in the way services are done, not only within the organization but across the entire chain of people and organizations providing services and support people need. Salesforce, while working alongside older technologies, can allow nonprofits to more effectively step into the future.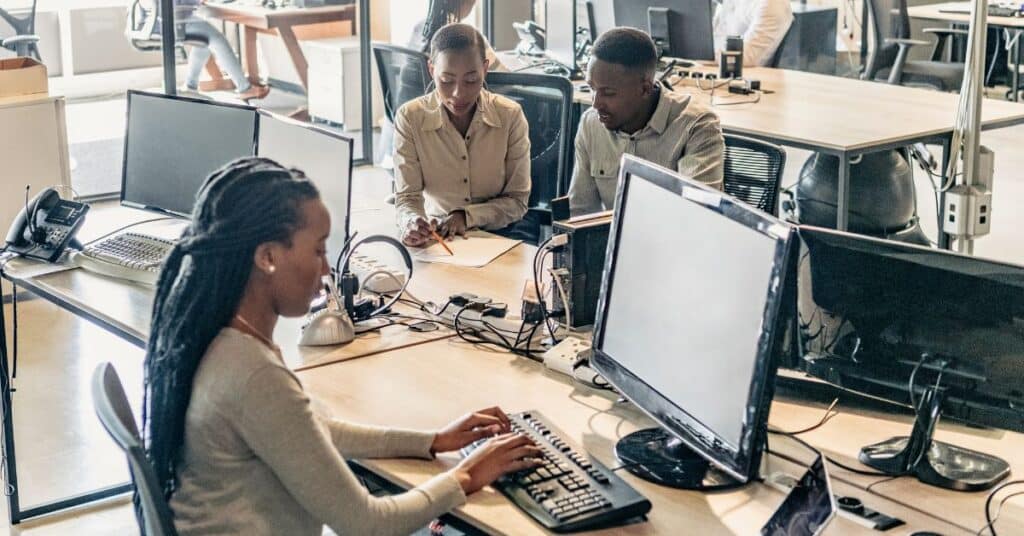 The Evolution of Program Management in Salesforce
Nonprofits have used and reaped the benefits of Salesforce for program management for a number of years.
Before the 2020 release of the program management applications, two approaches were used: custom applications or third-party applications.
Custom Application
Salesforce offers the flexibility to adapt its platform to meet the specific needs of an organization. Custom solutions can be built without coding. This approach continues to prove effective, particularly as Salesforce is making even complex customizations easier.
Customization can also come with challenges. Customization takes time and other resources, often more than initially anticipated. More challenging is an organization's need to manage the customization over time. The people who create the custom applications may come and go. Programs evolve. Without careful documentation and training, the customized solutions can decay. Using Salesforce, all your solutions are housed in one application, making management simpler.
Third-Party Application
The beauty of Salesforce is that it is more than a platform. It is a community. Within this community, developers have created the Salesforce AppExchange, a marketplace of reviewed and tested applications. These applications offer quicker implementation with tested and updated solutions, providing the user with consistent support. Salesforce human services solutions created by application developers like Exponent Case Management have been developed and extensively used.
Something to keep in mind, however, is that these applications come with annual fees which can add up quickly and they do not always keep pace with changing technologies.
Enter Salesforce Program Management Applications
The program management applications released by Salesforce bring some of the best features of both customized solutions and third-party applications. The applications deliver a solid framework for program management that previously needed to be created in the customized solution. In doing so, an organization can much more quickly and less expensively get started. The new applications also better preserve the ability for program management to evolve over time.
In creating the program management applications, Salesforce was able to draw from the learnings that the nonprofit community and application developers had acquired in the past.
There are three primary applications of the Salesforce Program Management solution. The first is the Program Management Module (PMM). This application can be used with Salesforce's Nonprofit Cloud, and integrated with the Nonprofit Success Pack (NPSP). Nonprofits with ten or fewer users can get NPSP and the Program Management Module at no cost. Additional nonprofit licenses are available at significant discounts. For many organizations, PMM may be sufficient to meet the essential program management needs.
The second application is Nonprofit Cloud Case Management. This provides a powerful digital workplace for each case management. Paid licenses are required, running from $300 – $400 a year per user.
The third application is the Service Cloud, a core Salesforce Application that allows nonprofits to quickly set up helplines, call centers, and resolve short-term support issues faster and easier. The Service Cloud also comes as part of the 10-user grant package.
Beyond these three primary elements, other Salesforce applications can further extend the program management solution.
Key benefits of the Salesforce Program Management Suite include:
Personalized Client Services: When delivering services to a number of clients, it can be hard to understand — and act on — the best next step for each individual. With Case Management, service providers can handle a large caseload and still personalize the care they provide.
Human-centric Support⁠—Anytime, Anywhere: Whether a nonprofit runs an emergency service helpline or a call center to provide information and support, Salesforce Program Management can incorporate technologies that allow for a quick response — anytime, anywhere. Services can be made accessible across every touchpoint with consistent support via chat, messaging, voice, and social media. They can also empower support agents to work from the desk or in the field and streamline the flow of information with an intuitive, offline-first mobile app.
Simplify Intake and Referrals: In a time when the demand for services is higher than ever, reducing the time and steps needed to enroll a client is imperative. Salesforce allows users to streamline intake with pre-configured templates that differ by program, easily delivering services or easily referring them to another organization.
Enhanced Case Manager Productivity: Each case manager's home page gives service providers a snapshot of upcoming client meetings, tasks, or incidents that are in need of their immediate attention. With lots of demands on their time, this helps service providers plan out their day.
Personalize Case Plans and Assess Progress: Case plans help service providers keep their clients on track. With just a few clicks in the case management tool, service providers can select from commonly used goals and action items or create custom ones unique to their clients' needs. In a single view, providers can track what's complete and what's still outstanding. Assessments help service providers understand clients' progress throughout the program.
Draft and Tag Case Notes: Case notes are part of a service provider's daily operations and Case Management is designed to make it as easy as possible. Service providers can create a note from a pre-configured template that differs by program so they no longer have to remember the specific information they need to capture for each note. They can save it as a draft to come back to later and tag notes with specific topics so they're easier to find later on.
Set Up Recurring Services and Track Attendance: Save time on data entry by setting up recurring services for groups or individual participants and tracking attendance. Service schedules allow program staff to set up multiple offerings of the same service (eg. a Monday & Wednesday Group and a Tuesday & Thursday Group).
Visualize Outcomes and Identify Trends: Whether an organization simply wants to tell funders how many clients they served this month or take a view of trends in their data, Salesforce's reporting and data visualization tools make it easier than ever to start viewing and analyzing program data.
Summary
The Salesforce 2020 release of its Program Management Suite offers nonprofits the opportunity to quickly and, in many cases, inexpensively upgrade their ability to manage programs, service clients, and report to funders. If your nonprofit is using Salesforce for other purposes, like donor management or community engagement, the Program Management Suite can be added, allowing for staff to move toward a common technology platform. Salesforce, as a leader in transforming the way work is done, also offers a powerful platform for helping any nonprofit, large or small, benefit strategically from emerging digital technologies.
iMission Institute is an agency that works exclusively with nonprofit organizations seeking to leverage the power of digital marketing and digital technologies. iMission is a Salesforce.org consulting partner. Please contact us to discuss how we can help your nonprofit.