Whether you need to design a new website from the ground up or redesign your current website, you want the end product to showcase who you are and what you do in ways that resonate with your target audience.
In many cases, your nonprofit's website acts as the first point of connection with people—making it a prime opportunity to start building meaningful relationships right away. Find out what makes a meaningful website and how to jumpstart the redesign process below.
How to Ensure the Best Process with Your Web Design Consultant
To begin designing a new website or redesigning your current one, you will first want to create a Request for Proposal (RFP). This will ensure the web-development agency or consultant you work with will have everything they need to design a website that aligns with your mission, vision, and goals.
Likewise, if you have a clear idea of what you want your website to look like, your agency or consultant will be able to give you a more accurate estimate of the:
Timeframe
Investment
Final results
Taking care to create a detailed vision of what you want your website to look like at the beginning will save you time, energy, and resources in the long run.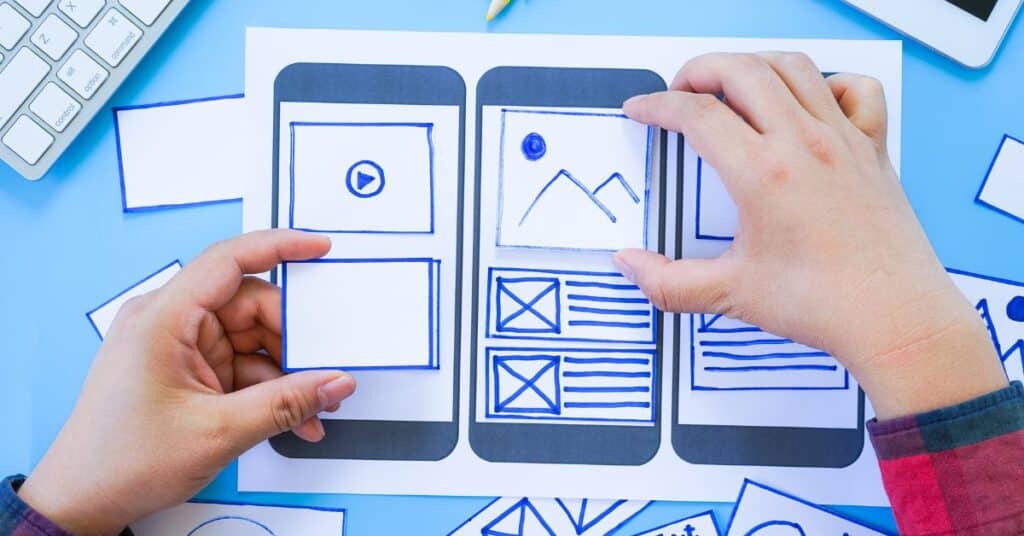 Website Redesign vs. Rebrand
Keep in mind that a website redesign is different from a rebranding. To ensure everything moves forward as smoothly as possible, you should separate these two processes. If the goal of your website redesign is to rebrand your nonprofit, do that first and let your new branding guide the redesign of your website.
Typically, a website redesign without any significant delays will take approximately 90 days. However, with unforeseen delays, the process can take up to 120+ days. Remember, launching is both the goal and the first step! After your website has gone live, you can easily edit it as needed in the future.
Project Management Pro-Tips for Your Website Redesign
After you create a Request for Proposal (RFP) with a detailed vision of how you want your website to flow, including its form, function, and mobile-friendly design, you can begin the redesign process. To do this, you will need to know:
Who: Choose the project team members.
What: Key project milestones like the start date, demo approvals, website launch, etc.
When: Create a timeline that outlines each step you need to take to stay on track.
Finally, you will want to pick a website launch date. At this point, you will be ready to set the project in motion.
What Makes a Meaningful Website?
Every nonprofit is unique, but when it comes to designing or redesigning a website, they all share a common goal: developing an engaging online presence that mobilizes donors, members, and volunteers into action. To this end, regardless of your specific mission, you want to create a website that is:
Accessible.
Responsive.
Easy to manage.
Visually appealing.
The key is to focus on improving the performance of your website to advance your mission in measurable and meaningful ways by increasing stakeholder engagement. Along the way, you will simultaneously address other areas of concern like the aesthetics, performance, and ease of the User Experience (UX).
Strategic Questions & Key Takeaways to Guide Your Process
Whatever your initial intention for your website redesign, there are a few steps you can take to move through the process strategically. To start, you will want to ask and answer a few specific questions.
Who Do You Want to Reach?
The first question is, who do you want to attract, reach, and engage? Once you know, let this guide your process to generate the results you need to maximize your impact. Typically, you will want to reach one or more people within the following four categories:
Advocates: The people you want to spread the word about your organization and champion your mission.
Clients: The people you want to provide services to.
Donors: The people who you want a monetary contribution from.
Communities/Members: The people you want to educate or those you want to become members of your organization.
The moment someone lands on your website, regardless of their reason for being there, you have the potential to advance your mission whether by providing services, acquiring a new donor, or developing a relationship.
What Do You Want Your Intended Audience to Do?
Once you know which audiences you want to reach, you can identify the issues you want to solve for each of them. This will help you make strategic decisions to improve your website's performance, including what campaigns you want to emphasize for each group. The key is to focus on guiding your audiences through your website in different ways depending on their wants and needs, rather than attempting to appeal to every audience on all areas of your website
If your audience is…
A new or prospective donor, then do the work for them by making it easy to donate money, supplies, or equipment through your website.
A group of advocates, that you may want to sign up for your newsletter, add their name to a new petition, or make a post on social media.
Clients, then you want to help them access the services you offer.
Communities or individual members, then you may want them to learn something new, access additional information, or attend an event/service day.
When you create different places for each audience member to land on, you can deliver specific results directly. This will keep them on your website long enough to encourage a specific type of engagement.
Along with creating easy-to-follow pathways using clean, clear, and concise language, you can organize your website with the following categories, each directed at a unique and specific audience:
Services/resources
Donations/giving opportunities
Volunteer/employment opportunities
This structure will enable you to drive the mission of your organization every step of the way, no matter where your audience arrives from or how they move through your website.
Remember: Your Target Audience Moves Through, Not to Your Website
People come through, not to, your website. They arrive through many roads, including social media posts, links, advertisements, other website links, organic online search, or paid advertisements. In addition to traveling along multiple "roads," people will come through multiple "doors" or initial entry points on your website, such as:
A blog post.
Your homepage.
A campaign donation page.
A volunteer or event signup page.
You want to make sure each visitor encounters a clearly defined and purposeful campaign. With a concise intention, you can drive deeper, more meaningful engagement in both the short- and long-term.
What Is Your Primary Ask?
Typically, when someone lands on your website, they will stay for an average of five to seven seconds. To hold their attention, focus on making a clear ask with cohesive branding messaging and an easy-to-follow navigation, so they can start engaging the moment they arrive. By creating different landing pages focused on stakeholder-specific campaigns, you can drive specific results.
Once you have your clear ask, you can identify broad umbrellas of services and opportunities through which people can engage. By nesting each program or aspect of your nonprofit within those larger offerings, you can develop campaign-driven content to boost engagement. This will make it simple and straightforward for the user to navigate through your website and find what they want or need.
Which Code or Design Process Is Best for Your Nonprofit?
After you figure out who your primary audience is, what you want them to do, and the campaigns you will focus on, the next step will be to decide which code or design process to use. The most extensive option is to build a custom code. However, due to its cost-prohibitive, time-consuming nature, we do not recommend this route.
Low Code, No Code
At iMission we prefer to use WordPress with a leading theme like Divi. This option is the middle of the road between drag and drop, create-your-own options like Squarespace on one end of the spectrum and custom coding on the other. Applying a "low code, no code" mentality to your website redesign can achieve excellent, easy-to-maintain results.
Identify the Who & How to Make Data-Driven Decisions
The best way to generate positive results is by making data-driven decisions using an analytics platform that allows you to determine the following about your website:
Who is coming?
Via what channels?
Why are they visiting?
What is the bounce rate?
How much time are they spending?
Once you launch your website, you will begin to see changes over time. Then, you can find out what is working and what could improve. This will give you a baseline to measure against as you move forward and gather more data.
By knowing who your audience is, how they arrive at your website, and what they want, you can make better decisions that will engage more people. Remember, keep your messaging clear and concise by speaking directly and intentionally to each stakeholder on different pages of your website. Ultimately, this will allow you to make a greater impact through your organization.
Advance Your Nonprofit's Mission with a Website That Generates Results
Wherever you are in the website design or redesign process, remember to move with the intention to achieve the best possible results. To learn more about the best practices for creating your nonprofit's website, watch our presentation on YouTube. Get ready to redesign your website today!